Q&A with Fulbright Scholar Jaime Rubin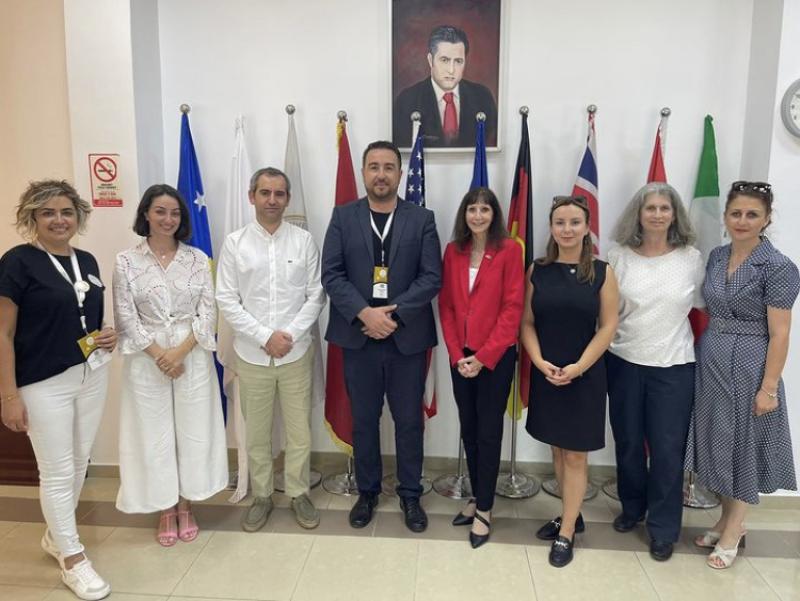 Jaime S. Rubin, PhD, vice chair for investigator development in the VP&S Department of Medicine, is spending six months in Kosovo through the Fulbright U.S. Scholar Program. She is assigned to work with the Republic of Kosovo's Ministry of Education, Science, Technology and Innovation. We asked her about her experience there.
Why did you apply to this program, and why Kosovo?
My path to a Fulbright Scholar Award was quite circuitous. When my son, Jared, applied for a Fulbright Student Award, I reviewed the Fulbright web pages to learn all I could about his program. I must admit that at the beginning I was ignorant about the different types of available Fulbright programs, especially for those at my career level. While I knew of Fulbright awards that involve research and teaching, I did not know about those categorized as "Professional Project" (which mine is).
It was during this period that I found the request from the Republic of Kosovo's Ministry of Education, Science, Technology and Innovation (MESTI) for a Fulbright Scholar with expertise in implementing administrative practices that support university-based research, innovation, and external grant funding and training in grant management practices. I spoke to Don Landry who at the time was chair of the Department of Medicine and who was very supportive of my application. I also spoke with Rudi Odeh-Ramadan, vice dean for finance and administration, who also lent her strong support. She read the Ministry's description of requested expertise and said, "This is you."
For many years I've taught a course on grant writing and now, ironically, I had to follow my own advice to prepare the application: Start early and address all the review criteria. I attended every Fulbright informational webinar, scheduled individual sessions with the program officer, and researched the issues I planned to address in the application's proposed project section.
关于随着你学到了什么ch development in Kosovo?
Before arriving in Kosovo, I learned all I could about Kosovo's culture, history, and current concerns. It is a very young country in every sense of the word. It is the newest country in Europe, having declared independence in 2008. I have read that 70% of the population is under 35 years of age.
Importantly, the Kosovo government has made research support a priority, and essentially I am helping them develop systems and programs to best support their researchers. I am learning about the different funding opportunities available to European researchers, especially the large Horizon Europe program in which Kosovo can participate along with EU member states. Horizon Europe includes a special component, "Widening Participation and Spreading Excellence," specifically to increase research activity in countries such as Kosovo. The Fulbright Scholar Award is a unique experience and my approach has been to say yes to everything, as well as to look for opportunities where I can make a contribution.
What else has your award enabled you to do?
I have been asked to give a keynote talk at an upcoming conference in November ("The Future of Science: Challenges and Opportunities"). One of the country's universities has asked me to advise on the development and implementation of an integrated curriculum and interdisciplinary courses, as well as on ethics in scientific research.
与MESTI除了我的职责,我m assisting a Fulbright student who is leading a few English language programs for Kosovo high school students. The U.S. Embassy asked me to speak on my Fulbright experience to students participating in university-based international summer schools. I spoke about my experience, but also about Jared's Fulbright experience in India, which I thought would be especially relevant to the participants since he is close to their career stage. On July 4, along with a U.S. State Department English language fellow and a Peace Corps volunteer, I participated in a public event in which I was asked to comment on why the freedoms available in the United States are important and what they mean to me. I described the freedoms my grandparents were seeking and found when they immigrated to the United States.
What about life in Kosovo?
Culturally, I look for opportunities to experience and learn more about the country. For example, I went to a wonderful concert offered by the Western Balkans Youth Orchestra. I also attended a very moving inauguration ceremony for a "Wall of Honor" that recognizes Albanian Kosovars who rescued Jews during the Holocaust. Living in Kosovo has been a tremendous experience. The people are very warm and welcoming, especially to those from the United States. It has been said that Kosovo is a "café society," with folks frequently inviting each other for coffee at an outdoor cafe. My favorite is the macchiato, one of the many things I will miss after returning home from my Fulbright Scholar Award.
References
Rubin is also professor of medical sciences (in medicine). She has given presentations and taught courses on funding and grantsmanship and on the responsible conduct of research and related policy issues.