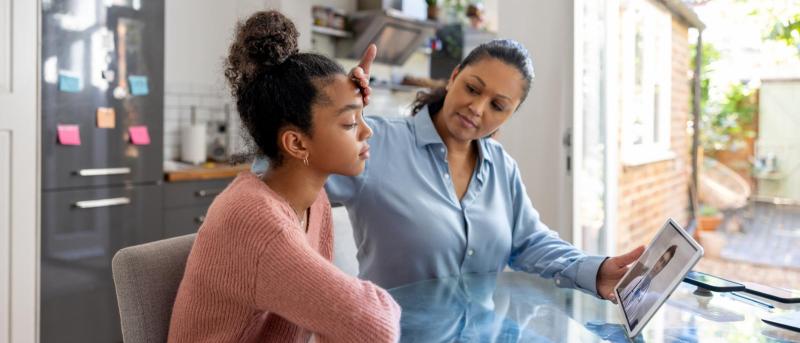 Virtual Urgent Care at Columbia Meets Patients Where They Are
It's 8 a.m., and you've been up all night with your new baby, who has a persistent, itchy rash. You think of taking him to urgent care, but the challenge of taking the baby on the subway makes you pause, and you worry a pediatrician may not be available at your local urgent care facility.
Instead, you open Columbia's Connect app and make a telehealth appointment to see a board-certified pediatric emergency medicine physician within the next 15 minutes. The doctor assesses your baby via video and electronically sends a prescription to your local pharmacy to treat his rash.
Virtual urgent care at Columbia is available from 8 a.m. until midnight, 365 days a year. The range of conditions that can be assessed and treated is broad, and physicians are able to order X-rays, ultrasounds, lab work, and prescriptions based on their assessments. Staffed by around 50 board-certified adult and pediatric emergency medicine physicians, all of whom also work in person in the emergency department at Columbia, the service handled more than 11,000 virtual urgent care visits over the past year.
"Our high-quality program is something that people can have at their fingertips at all times for all members of their family," saysErica Olsen, MD, director for virtual health services in the Department of Emergency Medicine at the Vagelos College of Physicians and Surgeons. "If you're on the fence about whether you should come to the emergency room, call 911, or visit your local urgent care, we're the right people to answer that question."
Two newer features of the program aim to improve access to care at Columbia. Virtual urgent care can now be scheduled to follow up with patients within 72 hours after discharge from the emergency department to handle a variety of things such as wound checks.
The team is also in the process of making virtual urgent care accessible to all specialties at Columbia. Currently for select specialties, including dermatology, primary care, and cardiology, virtual urgent care physicians can be tapped when appropriate to step in when patients call for an urgent appointment and no same-day appointments are available. The service will be introduced in obstetrics & gynecology in the fall, with four more specialties expected to join this year.
"These patients have physicians at Columbia, but may have an urgent issue that they want to discuss in real-time with a physician, and same-day appointments are not always readily available," says Olsen. "They are so grateful that they can see a physician that day, and we can keep an efficient closed loop of communication with their primary doctors. The fact that we are emergency medicine physicians with extensive availability makes this a good fit."
虚拟急诊rhyth倾向于遵循相同的ms of the emergency department, with similar seasonal surges and types of illnesses seen and even similar peaks in volume throughout the day and week, but there are some differences. To address the unique complexities of seeing patients via telehealth, the providers receive special training to improve their "webside manner," which includes education in tactics to ensure patient safety. Providers always verify the patient's exact location in case they need to call 911 on the patient's behalf, address privacy concerns if the patient is not alone during the visit, and are trained to screen for abuse or neglect in pediatric and elder care scenarios.
The program originally launched in 2017, so the team was well-positioned to handle surges during the COVID-19 pandemic, when virtual urgent care volume increased around 10-fold at its peak.
"When the pandemic happened, we became the go-to not only for our patients, but also for other health care providers for our model of care," saysMindy Stimell-Rauch, MD, a pediatric emergency medicine physician at VP&S and associate director of telemedicine for Pediatric Emergency Medicine at VP&S. "People from around the country and the world came to us for advice on virtual urgent care since we were leaders in the field. We managed to become very creative out of necessity and through this process realized that there's so much more that can be done on a virtual platform than we had ever imagined."
The nature of virtual care offers physicians insights they might not otherwise receive into a patient's life, circumstances, and some of the challenges they may face in acting on medical advice.
"There's a lot to capture from seeing someone in their own environment," Olsen says. "You don't have that context when you're a doctor sitting across from a patient in a gown in a room with white walls. You can give them great advice and guidance, but when you see what people are up against, you get a little bit more pragmatic in your approach. We really try to work with patients and navigate the constraints in their daily lives to meet them where they are. It is a privileged and humbling experience."
References
更多的信息
The virtual urgent care program is run through NewYork-Presbyterian, and Columbia physicians split time with emergency medicine physicians from Weill Cornell Medicine. Patients seeking virtual urgent care do not need to be existing patients at NewYork-Presbyterian, Columbia, or Cornell, but they must be located at the time of their appointment in the states of New York or New Jersey for adult patients and in the state of New York for pediatric patients, where the physicians in the program are licensed to practice. To make an appointment for virtual urgent care,visit the website.